EUROPEAN HEALTHCARE HACKATHON
24 - 26 NOVEMBER 2023
ONLINE & IKEM
24 - 26 NOVEMBER 2023
ONLINE & IKEM
24 - 26 NOVEMBER 2023
ONLINE & IKEM
Congratulations to HT Hackers! The winners of the European Healthcare Hackathon 2023!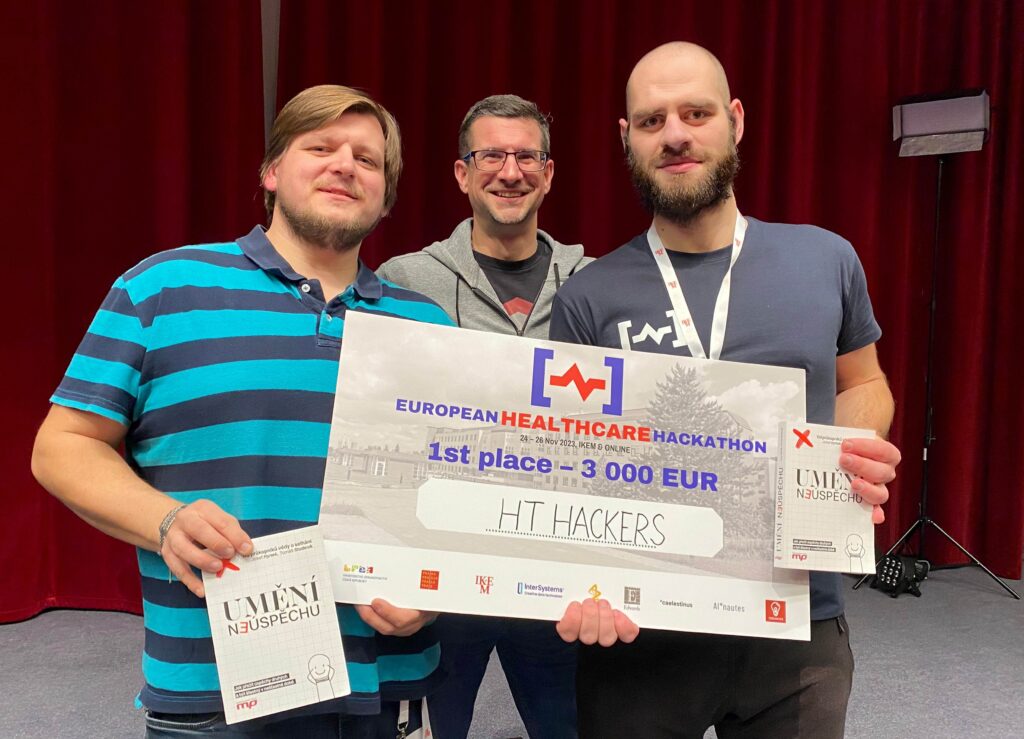 European Healthcare Hackathon 2023
EHH is an international hackathon tackling some of the most pressing healthcare challenges today. We bring hackers, students, entrepreneurs, healthcare, and industry experts together to create new ideas and technologies for diabetology, surgery, transplantology, patient care and comfort. You can apply for free, as an individual, or as a team of 3 members.
JULY – We are ON. Pre-register and be the first one to know. 
OCTOBER – Registrations OPEN – Form a team of 3 members or apply as an individual and find a team on the spot. 
23 NOVEMBER – Registration closed.
NOVEMBER – Invitations SENT – Watch out for an invite email with further instructions.
24 – 26 NOVEMBER 2023
Online track – You or your team will work on challenges remotely without being physically present at the hackathon venue in IKEM.
Offline track – We will be inviting up to 100 hackers (including teams and individuals) that will work on the challenges directly at IKEM in Prague. We will meet at Institut klinické a experimentální medicíny (Institute of Clinical and Experimental Medicine) – IKEM in Prague together with practitioners and other healthcare and technology experts who will be your mentors during the 48 hours hackathon.
24 NOV – Friday – The hackathon starts at 9:30 AM CET with the opening ceremony for both online and offline hackers. Hacking will start at 1:00 PM CET.
25 NOV – Saturday – Hacking continues. You will have a chance to join workshops and seminars organized by our partners. 
26 NOV – Sunday – Before 12:00 PM  CET both online and offline hackers will submit their hacks and judges will start with the evaluation. At 5:00 PM CET the winner announcement ceremony will start.  
CEE HACKS PRIZES

1st PLACE - EUR 3 000

2nd PLACE - EUR 1 500

3rd PLACE - EUR 500

InterSystems PRIZES

1st PLACE - EUR 1 500

2nd PLACE - EUR 1 000

3rd PLACE - EUR 500

Pathology is bridge between science and medicine. Can you break the ice between complex genomic data and cancer researchers? Find the courage to take up a challenge that aims to tackle the issue of efficient processing and use of sequential data. You can fundamentally change current practice.
2. EKG-Based Hospitalization Prediction
Develop a system for predicting hospitalization outcomes based on EKG data. Given EKG data from individuals in an ambulatory setting (AP) and subsequent hospitalization records, your task is to create predictive models that can automatically interpret vital sign monitor data and forecast both the likelihood of hospitalization and the expected duration of the hospital stay.
3. ICU Surveillance System
Create a "Big Brother" for the ICU – a bed-based system capable of identifying individuals in the room, determining their identities, monitoring their activities, and tracking their positions. The challenge involves preparing and training a model that can recognize and differentiate patients, their family members, and their actions (e.g., smoking or changing positions).
4. Efficient Glucometer Data Integration
Design a system for processing data from glucometers that automates the reading of glucose reports and integrates them into the Zlatokop (IKEM database). This system should allow for the identification of well-compensated patients and enable them to either send their data in advance or upload it at a kiosk using self-service options. The goal is to reduce the time patients spend at the doctor's office or with a nurse by ensuring that data is readily available. Additionally, consider implementing a hardware solution that supports mobile payments for healthcare fees, streamlining user registration through various identification methods (ID card, driver's license, insurance card, or citizen ID).
5. Gamifying Managed Healthcare - EDU Automat
Develop a gamified system for managed healthcare that motivates and guides patients. Ensure patients complete all recommended examinations and procedures, especially those with chronic conditions like diabetes. If a patient has missed a recommended test (e.g., an eye exam), the system should issue a challenge to encourage them to schedule it. The system will recognize and analyze patient data, and it could potentially involve collaboration with the Czech Public Health Insurance (VZP) to facilitate its implementation. This system aims to improve patient compliance and overall healthcare outcomes.
6. Automating Albuminuria Screening for CKD
Create an algorithm for automatic pre-filling of laboratory requisitions for albuminuria testing in patients at risk of Chronic Kidney Disease (CKD). Define risk factors and indications for urine testing, particularly in the context of diabetes and cardiology. Develop analytical tools to identify patient groups for specialized testing. Evaluate the prevalence of CKD in patients, especially at the Institute for Clinical and Experimental Medicine (IKEM), and assess the distribution of CKD in various laboratories. This challenge aims to improve CKD risk assessment and management.
7. Automated Medical Discharge Message Enhancement
Create a system that generates medical discharge messages using data from a patient's records, including information from Zlatokop (IKEM database), examinations, reports, and laboratory results. The system should also identify and correct any errors or inconsistencies in the generated message. Tasks include language correction, DRG coding, estimating complex relationships (DRG, ICD-10), and ensuring accuracy between procedures and diagnoses, especially for patients with multiple comorbidities.
8. MediDetect AI: Czech Diagnosis Challenge
Develop an AI model for diagnosing medical conditions using a provided dataset (including a private set for validation). We encourage participants to explore an open-source large language model capable of handling Czech. Test its proficiency in diagnosis, and if needed, fine-tune the model for improved accuracy. Ready to tackle the challenge?
Regardless of which medical challenge you are trying to solve – your solution will be way more powerful when it can access patient medical data and contribute generated data back to the healthcare system in the industry-accepted standard. This standard today is FHIR. With easy-to-use, InterSystems cloud-based FHIR services you can quickly enhance your application to retrieve existing patient data and submit results back to the healthcare system using REST interface. InterSystems will provide free access to cloud services, multiple sample datasets with clinical data, online and onsite mentors and support. This challenge can be combined with other challenges.
Institute of Clinical and Experimental Medicine